So last October, Michelle and I went out to dinner with our dear friends Dave & Kellie at The Shore Restaurant on St. Armands Circle on a double date. We love this place, and if you're in SRQ you really need to check it out. The Kung Pao Calamari is simply amazing! Anyway, we finished eating and got ready to leave when I realized I had left my wallet in the car. Pretty convenient right? 🙂 After a good laugh Dave picked up the bill and we were on our way. Later that evening I tried to pay Dave back. But the generous guy he is, he told me,"Nah man, Don't worry about it! The night's on me".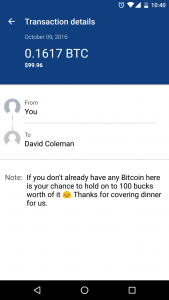 I told him, "I tell you what, let me send you some Bitcoin". He agreed, so I went to my Coinbase App and sent some Bitcoin to his email.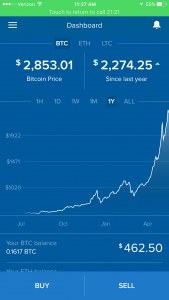 This morning we grabbed some coffee before work at the local Starbucks and got our "Geek Chat" fix for the week:) Needless to say Digital Currency was one of the main talking choices. He pulls out his phone and shows me his "$100" I sent him. Yeah that's right! His .1617 BTC is now worth almost $500! He's gonna be drinking FREE coffee for awhile:)
I don't claim to be an expert on Bitcoin or any other Digital Currency. I'm just fascinated by the technology and it's economic impact.
To give you an example of what I mean by "economic impact", According to CoinMarketCap.com the whole "Crypto" market capitalization just broke $100 Billion! That is the combined value of over 800 currencies and assets listed on at least one exchange. This is amazing, since this $100 bln industry basically appeared out of thin air with only computer resources as the actual hard cost of conception.
Anyway, I'd like to make a prediction just so I can come back to this post and see if I call this right:)
Again, please do NOT take this as advice. Do your own research.
Looking at just the top 3 currencies, Bitcoin, Litecoin, and Ethereum, I really feel that Litecoin is posed for massive gains! At the time of writing, 1 LTC is trading at about $30 USD. I predict by Jan 1st 2018 that it will be trading for over $100 USD. I really don't have any specific sources to back this prediction right now. This is just based on overall exposure to the industry and the known issues BTC (bitcoin) is facing with solving scaling issues. LTC (litecoin) is actually a fork of BTC and has already solved the scaling issue.
So there is my prediction. It may or may not happen. (Hopefully it does since I have a few LTC's) 🙂
Thanks for reading and God Bless,
-Jason